Welcome Welcome to Gelhaus.Net! March 12, 2014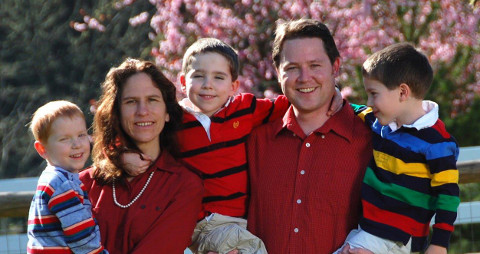 Welcome to Matt, Taia, Ronan, Elliott, and Kian's home on the web! This site is a collection of miscellaneous things related to our family, from travelogues and photo albums to Matt's various hobby projects.
Matt is an engineer with Hewlett-Packard in Corvallis, Oregon. He currently works on printhead testing and technology for future HP industrial printing products.
Taia works part-time at HP as a contract photolithography engineer. She also edits technical papers on a consulting basis.
---
Site Updates
2014-03-05 mjg
A new section about vintage computing devices has been added. Additional subsections will be added over time.
2013-04-08 mjg
Revised the script to handle changes required by upgrade to Python 3.
2011-11-11 mjg
Added a wiki for use as a personal reference site. It is publicly-viewable, though. See it here:
http://www.gelhaus.net/ref
. Editing rights are limited to Taia and Matt.
2009-01-12 mjg
We've added a true blog to Gelhaus.Net. This will primarily focus on the kids, at least at first. See it here:
http://www.gelhaus.net/blog
Username and password is the same as for the Photo Album.
2007-Dec 27 mjg
There is a new page about a popcorn mower I made as a Christmas present for our son Ronan. It is located in the Projects section.
2007-Jul 29 mjg
We added a page about our trip to Montana in the Photo Album.
2007-Jul 24 mjg
The truck is sold.
2007-Jun 24 mjg
We added a page about our recent trip to Crater Lake in the Photo Album.
2007-Jan-25 mjg
I've added an experimental RSS feed for Ronan's page.
2007-Jan-24 mjg
I consolidated the web site's various script functions into one "Grand Unified Script," and automated a few more things. This will simplify future updates, particularly when adding photo galleries. I've left the old scripts in place because I didn't want to update every bit of content on the site, and this way old stuff hopefully didn't break. Everything I've tested so far works well.
2007-Jan-18 mjg
Ronan Karl Gelhaus was born! He has a page in the Photo Album which we plan to update frequently.
2006-Jul-25 mjg
I have a truck for sale.
See it here!
2006-Mar-25 mjg
QuickTerm v1.01 was posted.
2005-Dec-13 mjg
I posted my review of the Sharp Zaurus SL-C1000.
2005-Oct-26 mjg
QuickTerm v1.0 was added to the Mac OS X section.
2005-Oct-20 mjg
I added my new quickie SDL benchmark program for the Sharp Zaurus.
2005-Sep-10 mjg
I upgraded the site to a new design that utilizes CSS and my own custom Python scripts for future design flexibility.